Planning, Managing and Operating GOLD ON Pachinko Parlors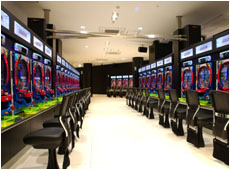 The leisure industry in Japan boasts a sizable market of 80 trillion yen (approx. US$730 billion). As part of this industry, pachinko is not only at the core of the leisure business, but has grown to become a unique feature of Japanese culture. This division is focused on creating urban-style amusement outlets near train stations in the Tokyo metropolitan area. Dedicated to enhancing customers' pachinko experience, the entire staff is committed to bold creativity in planning and operating the next generation of pachinko parlors. In the increasingly demanding amusement industry, Yunika has made major inroads with its thriving curiosity, innovative spirit, and dynamic, adaptable network.
GOLD ON Providing Value-added Services Unique to the Amusement Industry
Deeply committed to its role in this service industry, this division creates environments that provide customers with value-added amusement and entertainment. The slogan of the Amusement Division says it all: "Providing the best service in the industry, helping every member of our team grow, and rejecting all dishonesty by putting mature values and ethics into practice." Our staff works hard to deliver Service, Growth, and Ethical Conduct to earn customers' trust, and to continue to expand Yunika's amusement business venture.
Main Projects
■Overview of Business Divisions
The business division in charge of management and business strategies for each business of the Yunika Group
The business division in charge of the planning, management and operations of GOLD ON pachinko and slot-machine parlors
The business division in charge of setting up commercial facilities and opening new business outlets
The business division in charge of operations of facilities and stores that contribute to revitalizing local communities
We are a division charged with operating the outdoor Yunika Vision screens in Shinjuku.