Moving into the Future, Shifting from Commercial Development to Urban Development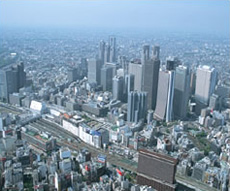 Yunika is best known for the development of commercial facilities in the Tokyo metropolitan area. The company's Real Estate Division handles the business of establishing new locations, which is the vanguard of its expansion. This division gathers information on potential outlet sites, surveys locations and markets, drafts business plans and architectural blueprints, and manages all of the processes involved in establishing new outlets, from acquiring properties to directing the layout of the outlet and handling legal procedures.

This division also provides real estate solutions for buildings and sites to promote and revitalize amusement businesses. It also has a strong track record in developing large-scale amusement facilities and facilities adjacent to commercial stations. Finally, it is currently applying the extensive expertise it has accumulated to the development of commercial complexes and other major projects.
Main Projects
■Shinjuku Project
Continuous development in the area near the East Exit of Shinjuku Station has grown this region into the most well known commercial district in Japan. The develop aims to maintain the image of the surroundings and create a comfortable urban structure.

| | |
| --- | --- |
| Location | 3-810 Shinjuku, Tokyo |
| Nearest station | JR Shinjuku Station, Seibu Shinjuku Station on the Seibu Shinjuku Line, others |
| Planned floor space | 1,673.99m² |
| Zoning | Commercial district |
| Bldg | coverage rate: 80% (100% fireproofed) |
| Floor-area ratio | 900% |
■Overview of Business Divisions
The business division in charge of management and business strategies for each business of the Yunika Group
The business division in charge of the planning, management and operations of GOLD ON pachinko and slot-machine parlors
The business division in charge of setting up commercial facilities and opening new business outlets
The business division in charge of operations of facilities and stores that contribute to revitalizing local communities
We are a division charged with operating the outdoor Yunika Vision screens in Shinjuku.